An effort is made to make "The Sheaf" a real newspaper and any who are interested in journalism will find it provides training of some value.
—University of Saskatchewan Handbook 1921-22, p. 25.
These little [wooden] steno-desks in The Sheaf office. With a knee-hole and then two drawers, you know? For typing. When the phone would ring, we'd pull the drawers out and rattle them. About six of these drawers going as loud and hard as possible. Pick up the phone and then bellow, "Stop the presses!" The whole noise would stop and then you'd say, "Sheaf."
–T.D.R. (Bobs) Caldwell, BA '54, LLB '57, in Michael
Taft, ed., Inside these Greystone Walls (1984), p. 111.
Not every student coming to the Sheaf's grubby door for the first time toyed with fantasies of someday being able to bellow "Stop the presses!" on the premises of a newspaper out there in the real world.  But some did, and they were sure they had gone to the right door because it was common knowledge that work experience on the Sheaf, combined with a tolerance for working for very little pay, was the very recipe for landing a job as a reporter on a newspaper, and might even help to open the way to a job in radio or television if you also had a great voice or nice teeth.
The Sheaf made all it could out of being the next best thing to the journalism school the University of Saskatchewan didn't have. Some years it put on short courses in reporting and editing, and every autumn brought a new editor in chief bearing lots of sage advice for campus cub reporters. Several Sheaf alumni in fact ended up teaching in journalism schools, and one actually co-edited a book of sage advice for campus cub reporters.
Listed below are some more Sheaf alumni who went on to work in the media, whether for a short time or for a whole career. The list is arranged chronologically and is a work in progress. This is part two in our "Stop the presses!" series, so far reaching reaching up to 1946. Corrections and additions are welcomed.
Amy Marsland (staff 1940-1 to 1943-4)
Amy (Downey) Marsland (BA 1943) was one of seven students, all women, who collaborated on the publication in 1943 of "Seven Sheaves," a volume of poetry dedicated to the Sheaf. She went on to complete a PhD degree in Romance Languages in the United States where she settled, combining writing books with newspaper editing and some university teaching. In 1958, Amy and her husband, William Marsland, bought the weekly Chenango American, in Greene, New York—the beginning of a family business publishing weekly newspapers. Amy was to edit the American, and she still (2012) writes a regular column for it, her topics being, she reports, "anything from obituary photos to global warming to how to give a cat medicine, and after all this time my few thousand readers probably know more about me than my family." Author of Cache-cache (1980). Reference: U of S Archives, alumni files.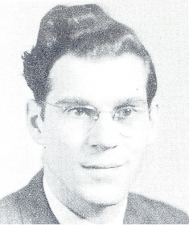 Ralph Hedlin (staff 1940-1)
Ralph Hedlin's degrees were in Agriculture (BSA 1948, MSc in Farm Management 1949) and his first job was one with the Country Guide, a farm magazine published in Winnipeg. He wrote editorials for the Winnipeg Free Press in the 1950s, was a contributing editor at Alberta Report in the 1980s, and later wrote a column for the Calgary Herald. In 1962 he teamed up with Merril Menzies—also a former Sheaf staffer (1948-9)—to form Hedlin, Menzies & Associates, a consulting economics firm that achieved some prominence. In a career marked by versatility, Ralph Hedlin was also a partner in an art dealership (and himself an art collector), a partner in a corporate communications firm, a photographer whose images of the Arctic rated an exhibition, and a political advisor. The Reform Party's slogan, "The West Wants In," has been attributed to him. Author of "Economics of One Prairie Province," Canadian Public Administration (1970). Reference: U of S Archives, alumni files.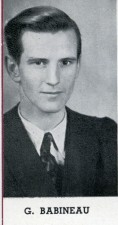 Gordon Babineau (staff 1940-1, 1941-2)
Gordon Babineau worked as an announcer at CKRM Regina in 1945 and later wrote continuity at CKNW New Westminster. He took a job with CBC Vancouver in 1952 as a radio producer, soon moving to the TV side in the public affairs department. Among the programs he produced for CBC-TV were "Fighting Words," a popular discussion show whose initial series ran for nine years (1953-62), and "The Living Book"/"Toil and Peaceful Life" (1978), a two-part documentary on Doukhobor life and culture.
Max Braithwaite (contributor 1941)
In 1941, Max Braithwaite won first prize ($5.00) for a short story he submitted to a literary competition sponsored by the Sheaf. He was taking a class at the university while stationed in Saskatoon as an educational officer in the Royal Canadian Navy; in the early 1930s, while teaching in country schools, he had taken other U of S classes by correspondence. At the end of the War he became the CBC's "Repat Reporter," giving radio talks aimed at service personnel returning to civilian life. In the years ahead he wrote radio drama, documentary pieces and educational programs for the CBC as he pursued other lines of his freelance writing career, turning out books and a steady stream of magazine articles. He took pride in making a living solely from his writing once he had put teaching behind him—"No grants, no teaching, no writer-in-residence, nothing but writing." His novel Why Shoot the Teacher? (1965) was made into a movie of the same name (1977). He won the Stephen Leacock Medal for Humour in 1972 for The Night We Stole the Mountie's Car. Author of Max: The Best of Braithwaite (1983) and more than 20 other books. Reference: The Canadian Encyclopedia; Who's Who in Canadian Literature 1987-88 (1987)
Borgny Pearson (staff 1942-3, 1943-44)
After graduating with a BA in 1944 Borgny (Eileraas) Pearson worked as a reporter for the Leader-Post. She later reported for two Saskatchewan weekly newspapers, the Shaunavon Standard and the Swift Current Sun. In 1950 she took a job as publicist for a non-profit organization in Ottawa. Writing advertising copy for a department store was to follow. In 1956 the Ottawa Citizen made her editor of its Home Page, a job she left after three years to write copy for the Government of Canada's travel bureau. Next, she worked for the Department of Secretary of State preparing literature on citizenship in Canada. In 1976 she was made editor of the Canada Year Book, guiding this useful reference book through several editions. She was president of the Ottawa Media Club in 1995. At the U of S, she was one of the "Seven Sheaves" poets (see Amy Marsland, above). Co-editor of The Canadian Family Tree Centennial Edition 1867-1967 (1967). Reference: U of S Archives, alumni files.
Jack MacRae (staff 1943-4 to 1945-6)
The first of a series of weekly radio programs put on by students at the U of S went on the air on CFQC on October 30, 1943. A radio drama on a French Revolution theme was presented and the Sheaf contributed a newscast, the announcing being "ably handled by Jack MacRae who has had previous experience announcing over CKCK, Regina." After completing a BA degree in 1946, Jack MacRae did freelance radio work in Toronto before joining the CBC International Service, where he shortly achieved an overseas posting in London. It was the late 1950s, and the technology of the day required that film from London be transported in canisters to Toronto or Montreal before images could be made available to Canadian television viewers. On his return to Canada he worked as an administrator on special CBC projects, most notably the Northern Service which had the challenge of bringing television to remote communities.
Arch Mackenzie (staff 1944-5 to 1946-7)
Arch MacKenzie (BA 1947) was sports editor of the Sheaf in 1945-6, writing a column, "Shades of Brawn." His byline was to become a familiar one for many Canadians whose local newspapers depended on the Canadian Press (CP) agency for news from distant places. Beginning with a summer job with CP in 1946, he worked out of nine of the agency's bureaus, including those in London (1952-5) and Washington (1964-9). He was a member of the Parliamentary Press Gallery in Ottawa for 26 years—24 with CP (as Ottawa bureau chief, 1976-86) and two with the Toronto Star (as Ottawa bureau chief, 1986-8). He has been a member for many years of the executive committee of the Michener Awards for public service journalism, and has served on the selection jury for the awards. Editor of Globalization and its Discontents: Report of the Annual Policy Conference of The Group of 78 (1999). Reference: U of S Archives, alumni files.
Jeannine Locke (staff 1945-6)
Jeannine Locke made an early start on a journalistic career in high school when she took on the job of Shellbrook correspondent for the Prince Albert Daily Herald; paid by the column-inch of type, she earned as much as $4.00 in a newsy month. After completing a BA (1946) and an MA in English (1949) she wrote editorials first for the Star-Phoenix and then for the Ottawa Citizen. A brief stay at Chatelaine—hired by John Clare, also formerly of the Sheaf—was followed by employment in 1959 at the Toronto Star where, she recalls, she was at the start the sole woman on the newsroom staff. The next year she was made chief of the Star's bureau in London, from which she covered the Eichmann trial and other events in Europe. After writing for a time for the Star Weekly she left print journalism in 1969 to start work as a writer-producer with CBC television. She did documentary work and profiles for 10 years, moving then to the CBC's drama department, where she produced feature-length films and mini-series for 11 years. Writer-producer of Chautauqua Girl, a TV movie honoured by ACTRA in 1985 as "best TV program of the year." Reference: Mary Jane Miller, Rewind and Search: Conversations with the Makers and Decision-Makers of CBC Television Drama (1996); U of S Archives, alumni files.
Andy MacFarlane (staff 1945-6, 1946-7)
Andy MacFarlane was born and raised in Ontario but sent west for his post-secondary education to the university where his father, Joseph A. MacFarlane (Honorary LLD 1949), had been a student and Rhodes Scholar. Andy spent two years at the University of Saskatchewan, working for both the Sheaf and U of S Radio Productions (for which he produced a program on CFQC featuring campus orchestras), returning then to Ontario where he finished his BA degree. He worked as a journalist in Halifax, Glasgow and London's Fleet Street before taking a job with the Toronto Telegram in 1955. He was to be with the Telegram for 17 years, winning two National Newspaper Awards for reporting and rising to executive editor. In 1973 he was appointed founding dean of the new Graduate School of Journalism at the University of Western Ontario. After retiring from the deanship in 1980, he continued teaching journalism at Western until 1993. Author of It Seemed Like a Good Idea at the Time (1983). Reference: Canadian Who's Who 2000.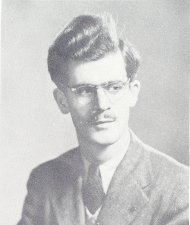 Bob Phillips (staff 1945-6)
After wartime service in the Canadian Army, Robert H. D. (Bob) Phillips completed a BA degree in 1947 and began a 12-year stint as a newspaperman, working for Canadian Press, United Press in Europe and the Leader-Post in his hometown of Regina. In 1960 he took a job as research analyst for the Saskatchewan Wheat Pool and organized an economic research division which he directed. In 1973 he was made editor and publisher of the Western Producer, the farm newspaper owned by the Pool, with responsibilities that extended to Western Producer Prairie Books. He was made a Member of the Order of Canada in 2002 and admitted to the Saskatchewan Agricultural Hall of Fame in 2009. In retirement, Bob and his wife Tanyss (Bell)—also formerly of the Sheaf—operated a publishing company specializing in family histories. Author of Out West: Stories about Persons and Places on the Canadian Prairies (1977). Reference: U of S Archives, R.H.D. Phillips fonds.